Escape this year to the secluded islands of the Caribbean or the exotic tropics of South-East Asia in ultra-luxury Seabourn style – and pay with Canadian dollars at par!
Don't miss this rare opportunity to save while discovering the hidden gems that await you sailing in the lap of Seabourn luxury among the islands of the Caribbean or South China Seas.
WATCH VIDEO ABOVE: EXPERIENCE THE RETREAT ON THE SEABOURN OVATION
Precious remnants remain of a world off the beaten track remain, but Seabourn's intimate ships can take you there.
Spend a day with Seabourn chefs in local markets or take the crew's advice on which beach has the most vibrant underwater life, and which bar blends the most tantalizing local cocktail.
Seabourn's captains know the best places to anchor and deploy the marina, treating you to an unforgettable afternoon of watersports or a beach barbecue with lobsters on the grill and caviar served in the waist-deep surf.
Come along and let Seabourn share its favorite Caribbean and South-East Asian secrets with you.
CONTACT US IMMEDIATELY WHILE SUITES ARE STILL AVAILABLE
DURING THIS EXCEPTIONAL AND LIMITED CAPACITY OFFER
There are 2, 2019 SEABOURN CARIBBEAN DEPARTURES on the Seabourn Sojourn Eligible for Canada at Par Pricing
GEMS OF THE LEEWARD ISLANDS
Nov. 16, 2019 - 12-days, Roundtrip Miami
Sail round-trip from Miami to our favorite Uncommon Caribbean landfalls, from chic St. Barts and Martinique to laid-back Iles des Saintes and Jost Van Dyke—plus a Caviar in the Surf beach party at St. Kitts.
GEMS OF THE ANTILLES
Dec. 10, 2019 - 11-days, Miami to San Juan Puerto Rico
A delightful mix of Uncommon Caribbean landfalls, from historic Santo Domingo and chic Martinique to tiny Terre-de-Haute and glittering Antigua—plus a Caviar in the Surf beach party at Isla Catalina.
There are 8 2019/ 2020 SEABOURN ASIA DEPARTURES on the Seabourn Ovation Eligible for Canada at Par Pricing
From $5484 per person
Why Seabourn's Asia?
Explore the heart of Asia, where exotic meets the unforgettable on every leg of your journey. You'll venture off the beaten path to capture experiences available only to those who arrive by sea. Sail with us to vibrant cities, gilded temples and fascinating cultures, all in ultra-luxury Seabourn style.
1. Hand-selected itineraries include marquee ports and hidden harbors where larger ships cannot go
2. Optional Ventures by Seabourn™ double sea kayak and Zodiac tours in Senggigi, Komodo and Surabaya allow you to explore up-close at sea-level, with guidance and insights from our skilled Expedition Team, on select itineraries
3."Caviar in the Surf®"beach party and barbeque — in Ko Kood, Thailand. Enjoy this beautiful beach while our stewards wade through turquoise water to serve you chilled caviar and ice-cold Champagne
4. Marina Day* with complimentary watersports from our unique retractable marina including water skiing, pedal boats, and windsurfing, in select ports
5. Shopping with the Chef excursions in Ho Chi Minh, Halong Bay, Laem Chabang (Bangkok) and more — allow you to learn about regional markets and see how the freshest ingredients are selected, with an expert Seabourn chef as your guide
6. Regionally inspired cuisine using local seasonal produce and seafood
7. Let's Dance! deck party, Movies under the Stars and other special deck events
8. Local entertainment performances on deck in select destinations such as Manila, Da Nang, Yokohama, Sihanoukville and more – further enhancing your cultural experience
9. Seabourn Conversations with special guest speakers, including historians and destination experts and more
10. Shore excursions to UNESCO World Heritage sites with enhanced content through our exclusive partnership, including The Great Wall of China, Hiroshima Peace Memorial, Complex of Hue Monuments and more
11. UNESCO Cambodia: Phnom Penh & The Temples of Angkor, our optional 6-day pre- or post-cruise Seabourn Journey, from Phnom Penh 12. UNESCO Treasure of China: Beijing, Xi'an & Hong Kong, our optional 6-day pre- or post-cruise Seabourn Journey, from Hong Kong.
HOLIDAY THAILAND & VIETNAM
Dec 21, 2019 – 14 days – Singapore to Hong Kong
VIETNAM & THAILAND
Jan 4, 2020 – 14 days – Hong Kong to Singapore
Feb 29 2020 – 14 days – Hong Kong to Singapore
THAILAND & VIETNAM
Jan 18, 2020 – 14 days – Singapore to Hong Kong
Feb 15, 2020 – 14 days – Singapore to Hong Kong
GRAND SOUTHEAST ASIA
Jan 18, 2020 – 28 days – Singapore to Singapore
GEMS OF THE SOUTH CHINA SEA
Feb 1, 2020 – 14 days – Hong Kong to Singapore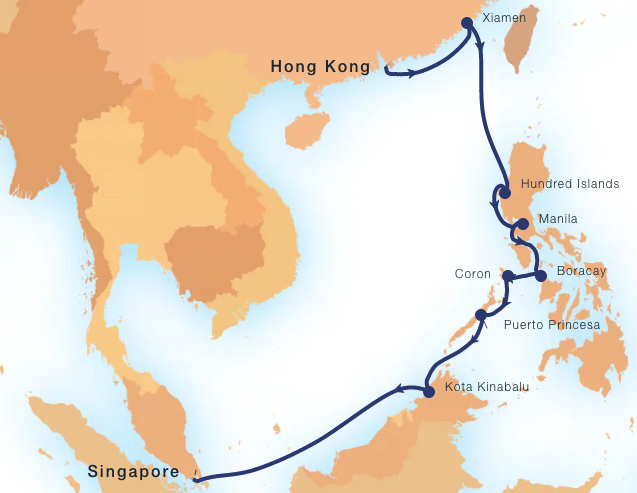 SOUTH CHINA SEA CIRCLE
Feb 1, 2020 – 28 days – Hong Kong to Hong Kong
The Seabourn Difference
• Intimate ships with a private club atmosphere
• Intuitive, personalized service provided by staff passionate about exceeding guests expectations
• Curated voyages to all seven continents delivering award-winning experiences
• All ocean-front suites, luxuriously appointed
• Complimentary premium spirits and fine wines available on board at all times
• Welcome Champagne and complimentary in-suite bar stocked with your preferences
• Tipping is neither required, nor expected
• Finest resort at sea that is masterfully designed
• World-class dining, further enhanced through a culinary partnership with Chef Thomas Keller
All dining venues are complimentary, dine where, when and with whom you wish
• Seabourn Conversations, connecting with visionary experts
• Ventures by Seabourn™, optional shore excursions, enhance your experience in select destinations
• Select purposeful and sustainable travel experiences in partnership with UNESCO
• Spa & Wellness with Dr. Andrew Weil, featuring an exclusive mindful living program
• An evening entertainment experience in collaboration with Sir Tim Rice
• Committed to environmental stewardship and sustainability